Starting a low carb diet isn't that easy, especially if you have been stuffing yourself with bread, pasta, potatoes, sweets, rice and basically everything that you had to throw out of your diet for most of your life. First couple of months were a complete agony for me and every now and then I couldn't resist the temptation so I had these 'cheat days' where I would allow myself to eat something that usually isn't 'allowed'. I remember for such a long time I had this crazy obsession with hazelnut wafers produced by Kraš (Croatian candy company). I would drool all over the place whenever and wherever I saw them, so every two weeks I would buy myself an 840-gram pack and would eat it all by myself in one day. Long-term it didn't damage my weight losing goal, but every time I ate it would feel so bad because of all the sugar and the fact that the damn thing had more than 4000 calories in those 800 grams. It usually took me 2-3 day to recover afterwards. Somewhere along the way I realized that those crazy-ass cheat days were completely unsustainable but it was so freaking hard to give it all away forever. I enjoyed my low carb meals, but every now and then I needed something to satisfy my sweet tooth. That's where Pinterest came into play. I learned everything about 'low carb' sugar substitutes and natural sweeteners I could occasionally use, 'low carb' flours to substitute the white one and how to use it all in your food to get perfect sweets without all the nausea and guilt that would accompany eating standard confectionery. I quickly decided to buy myself a bunch of groceries what I never used in my life, started experimenting and never stopped since. Along the way I discovered some really great recipes for main dishes and that was it. I was completely hooked. The need for bread, pasta, confectionery, potatoes, it all disappeared. I could now look at hazelnut wafers as if was piece of plastic. Nothing was pulling me to my old life anymore. I was in full low carb mode and started having the time of my life preparing and eating the food and special thanks has to go out to all those great bloggers that shared their recipes and ideas with amateurs like me so we could look great in kitchen as well. They are the heroes of my story and even though they never even heard of me I owe them a huge debt of gratitude. One way to repay them is to share their recipes and inspire other people like they inspired me. So here are my favorite recipes that got me completely hooked on low carb (just click on the photo to open them).
CAULIFLOWER HASHBROWNS
These require a little bit of fiddling and I usually make a huge mess in the kitchen preparing them but 'ohmygod' these things showed me the beauty of cauliflower and started the greatest love story of my life so far.
CAULIFLOWER BREADSTICKS
In my version these ended up being cauliflower crust pizza that made me forget all about that other pizza they call 'real' with white flour dough and all those evil carbs 😊.
CAULIFLOWER RISOTTO
There are certain things that just go great with rice and life without it can sometimes be a little bit difficult but that is where cauliflower comes in. The greatest freaking vegetable in the world.
CAULIFLOWER POTATO SALAD
It's not just rice that you can use cauliflower for. You can also use it to replace potatoes in this salad. But you need mashed potatoes and can't live without them? That's when cauliflower comes into play. Just look up mashed cauliflower and your life will never be the same again.
ROASTED CAULIFLOWER ALFREDO SAUCE
You need some kind of sauce for your chicken but don't want use cream or milk. No problem. Cauliflower to the rescue again. Mix this sauce with your chicken, mix it with zucchini spaghetti and you realize you can have everything low carb.
CAULIFLOWER OATMEAL
Have I told you how great cauliflower is? No. Well, it is. Along with zucchini it is one of the vegetables that I can't imagen my life without. And yes, this oatmeal works. Everything you make out of cauliflower works. It just does.
ZUCCHINI LASAGNA
Lasagna is just the perfect meal if you get it right. Heck, even if you don't get everything perfect it's still pretty freaking delicious and in this recipe, you throw out the pasta to replace it with zucchini and it is the most delicious thing in the world. The zucchinis complement the tastes even better than the pasta and this low carb version of lasagna is waaay better than the original one.
OOPSIE CLOUD BREAD
Starting low carb diet meant one thing for me: No more delicious sandwiches. That was until I discovered this thing called cloud bread. Eggs, cream cheese and a little bit of salt is all you need to show you the way into sandwich making heaven again. One of the first recipes I tried before even know about things called coconut flour or psyllium husks. These things got me through some very difficult times 😊.
EASY KETO MOZARELLA STICKS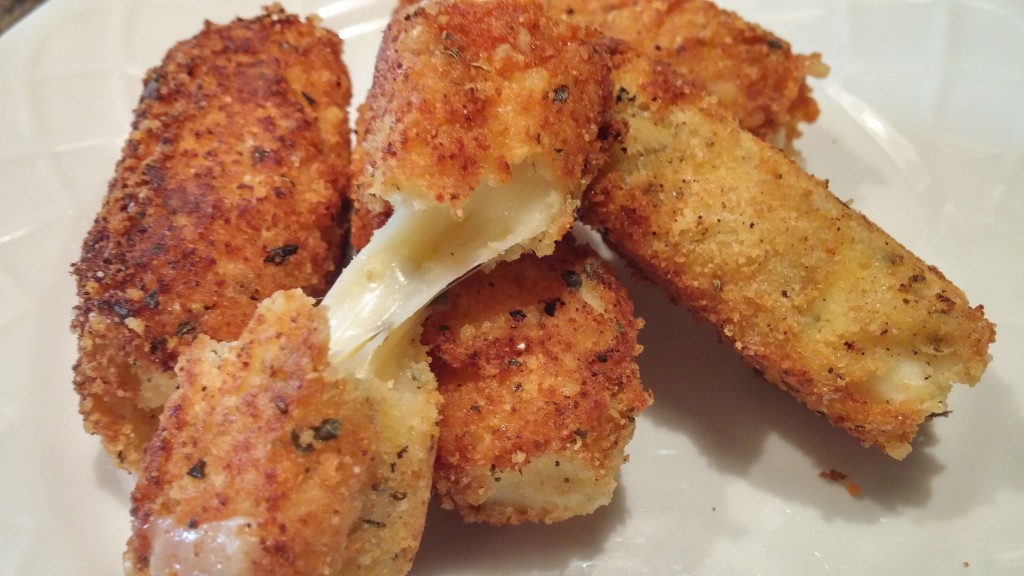 During my university days in Rijeka there was this student messroom that served just the best deep-fried cheese sticks. With few drops of lemon those things were something that came right out of heaven but before I even knew it they were gone from the menu. From that day I started my search for the same recipe and would fail over and over again until I found my destiny in these mozzarella sticks. With a few dashes of lemon juice before serving these things immediately took me back to those glory days when I was young, fat and stupid.
BAKED SCOTCH EGGS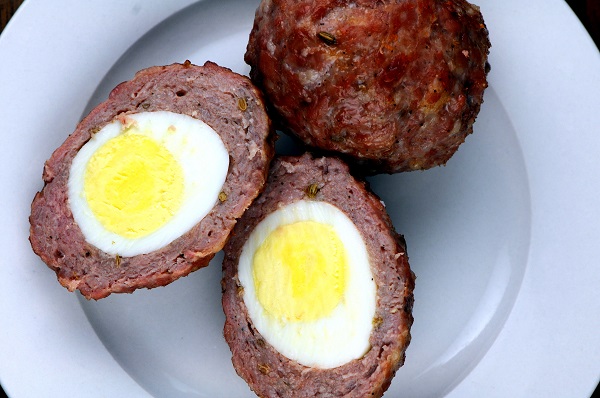 Ever since I started my low carb diet I tripled egg consumption. I just can't imagine my life without them and this recipe is just… Well, it's ground meat wrapped around boiled egg. So freaking good that I even got my family hooked on this.
SHAKSHUKA
Eggs poached in tomato sauce. I repeat: eggs in tomato sauce. I usually eat this right out of the pan. Try it. Eggs and tomato sauce is one of the great inventions of mankind and one of the best things to come out of the Middle East. Just omit the sugar from the recipe and that's it.
KETO ROTI JOHN
In this case maybe it's not about this exact recipe but about the fact that it introduced me to fathead dough for the first time. That was a game changer for me and what followed were weeks and weeks of experiments making different kinds of pizzas, calzones and sandwiches using this dough. It opened a whole new world for me.
5 MINUTE KETO PIZZA
Maybe not as good as a cauliflower crusted pizza but this one showed me that I can make quick and easy comfort food whenever I get the urge and showed me the greatness that are psyllium husks.
CHICKEN PARMESAN MEATLOAF
Chicken meatloaf filled and covered with a mixture of cheese and marinara sauce. Holy shit! So much everything in just one meal. My family and I just devoured this one every-time I made it.
CABBAGE SAUTED CHICKEN
This one was something that I decided to try but didn't think I would love it. Just the thought of mixing sweet cabbage sautéed with chicken and then covered in tomatoes didn't sit right with me. It turned out to be one of those 'you have to try it to believe it' combinations. Just like shakshuka.
LOW CARB LAVA CAKE FOR 1
Chocolate lava cakes have to be one of the best desserts out there and when I discovered this really simple and easy recipe for low carb lava cake I was over the moon. I almost cried tears when I tried this recipe for the first time and got it right. I could have lava cake which looked and felt just like the real thing.
HOMEMADE NUTELLA
Roasted hazelnuts mixed with cocoa. It just doesn't get better than that and this tutorial taught me how to make homemade Nutella that I later adapted with a couple of ingredients and turned it into one of my signature meals, especially if combined with low-carb pancakes.
COCONUT FLOUR PANCAKES
Of course there's a low carb recipe for pancakes as well. You can make everything low carb. You don't have to give up on anything.
LOW CARB OREOS
You can even make Oreos. Yes, they require a steady hand and a little bit of fiddling but the end result is just worth it.
COCONUT FLOUR CUPCAKES
When I first started baking with coconut flour most of the recipes were just so complicated and required too much fiddling, but not this one. You just gather up the ingredients, mix them up and bake. After I've done them for the first time I dipped them into melted chocolate and then rolled into coconut flakes to recreate low carb version of 'cupavci' (try it, it is awesome), something that I thought will never have again on my low carb diet.
APPLE PIE DOUGH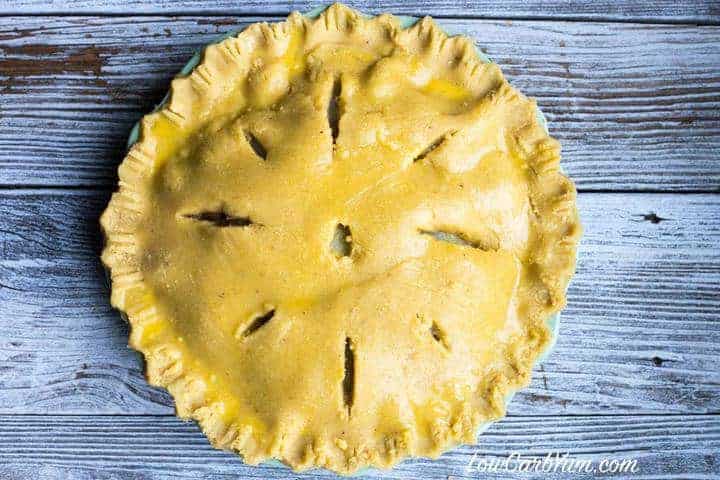 I absolutely enjoyed when my mother made apple pie. Crisp buttery dough filled with apples. Just thinking about it makes me drool. When I started my low carb baking career one of the first things I tried to recreate was that taste but I would always come out short and would always miss something. The dough from this recipe put an end to my misery and now I can have guilt free apple pie whenever I want.
NUT FREE KETO BROWNIE
You don't need flour to make brownies and the end result you get is really tasty, moist and fudgy brownie that everyone will love, even if they are not into low carb diet.
It's not just these recipes that I owe everything to. It's also those great and awesome people that gave me the idea to slice zucchini into spaghetti and eat it with my Bolognese sauce or to wrap my burger into a piece of lettuce or two leaves of cabbage or to mash cauliflower just like you would mash potatoes or all those great people that don't have recipes online that I can share with you. These amazing people from all over the world taught me everything I know about low carb cooking and baking right now and every-time I get a meal right I remember myself to thank all of them for their gifts. Really guys, thank you all! My journey would not have been a success without you.